How to Make Yummy Apple-Pear Pie
Apple-Pear Pie.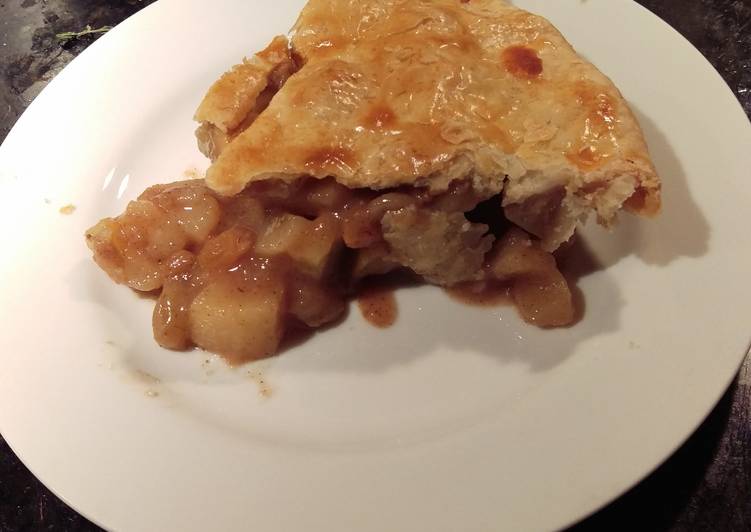 You can have Apple-Pear Pie using 15 ingredients and 9 steps. Here is how you achieve it.
Ingredients of Apple-Pear Pie
It's 1/2 of lemon for zest.
Prepare 5 of baking apples (granny smith, etc.), peeled, cored, sliced.
It's 4 of baking pears (bosc, etc.), peeled, cored, sliced.
You need 2/3 cup of brown sugar.
You need 1/2 teaspoon of ground cinnamon.
It's 1/2 teaspoon of ground ginger.
It's 1/4 teaspoon of fine salt.
Prepare 1/4 teaspoon of freshly grated nutmeg.
Prepare 1 cup of golden raisins (soaked in brandy, optional).
It's 1/4 cup of unsalted butter (1/2 stick).
It's 1 tablespoon of fruit jam / preserve (clear, such as apricot, etc.).
It's 1/4 cup of all-purpose flour.
Prepare 1/2 teaspoon of pure vanilla extract.
It's 1 of large egg, beaten (for egg wash).
Prepare 2 of store-bought pie crusts (follow package instructions for use).
Apple-Pear Pie step by step
For the filling: Finely grate the lemon zest and set aside. Peel, core and then slice both the apples and pears into 1/2-inch slices. Coarsely chop the slices. Squeeze the lemon juice over the fruit then toss fruit with the sugar, cinnamon, ginger, salt and nutmeg. Mix in the raisins..
Melt the butter in a very large skillet over medium-high heat. Add the fruit and cook, stirring until the sugar dissolves and juices simmer, about 2 minutes. Reduce heat to medium, add the fruit jam (optional), and cook uncovered, until the fruit softens and the juices evaporate some, about 10 minutes..
Evenly mix the flour into the fruit; then cook about a 2 minutes more to thicken the juices slightly. Stir in the vanilla and lemon zest; and remove from the heat. (The filling should resemble tight compote.) Cool completely..
Form the pie: Transfer one prepared pie dough sheet from a lightly flour dusted surface area to 9-inch pie pan, so it hangs about 1/2-inch over the edge of the pan. Fill the crust with the prepared fruit so it mounds slightly in the center..
Roll the other dough sheet onto the dusted rolling pin and unroll it over the fruit so it hangs over the edge of the pie pan by about 1/2-inch. Trim crusts evenly with a knife and press both top and bottom edges to seal. Flute the crust edge with a fork or fingers to make an even impression. Refrigerate the pie for at least 20 minutes..
Place the oven rack in the lower third of the oven and heat to 400 degrees F..
Brush pie with egg wash and sprinkle with white sugar on top if desired. Cut 6 to 8 small steam vents into the top of the pie dough. Place pie on a baking sheet (drippings) and bake for 15 minutes, then reduce the temperature to 375 degrees F..
Bake for another 45-50 minutes until the crust is golden brown. If the edges begin to brown too quickly, cut a pie crust shield out of a piece of aluminum foil and cover the edges. When done baking, cool on a rack for 1-2 hours..
Tip: Serve with ice-cream of course..