Recipe: Perfect Caldo de pollo ( carribean style chicken soup/stew)
Caldo de pollo ( carribean style chicken soup/stew).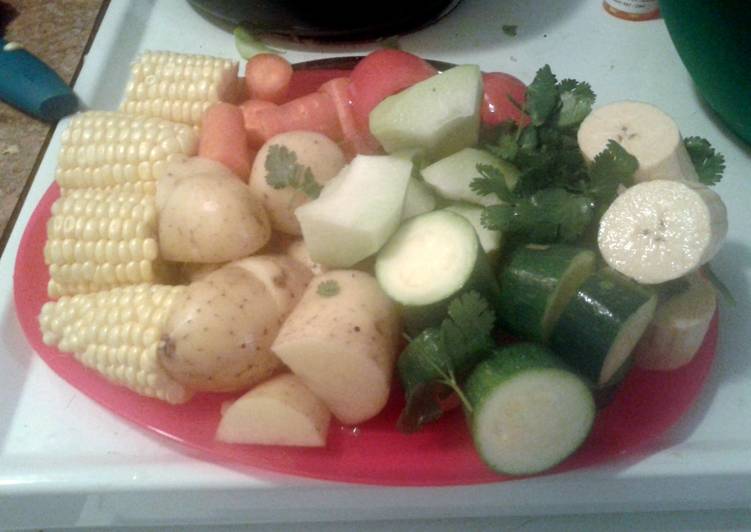 You can cook Caldo de pollo ( carribean style chicken soup/stew) using 15 ingredients and 21 steps. Here is how you cook that.
Ingredients of Caldo de pollo ( carribean style chicken soup/stew)
Prepare 1 medium of fryer chicken(whole).
Prepare 6 cup of water.
You need 1 medium of chayote squash.
Prepare 4 large of carrots.
Prepare 1 large of green plantain.
It's 2 large of white potatoes.
Prepare 1 large of yuka.
It's 3 small of roma tomatoes.
Prepare 2 medium of zucchini squash.
It's 1 large of sweet vidalia onion.
You need 2 of ears of fresh corn.
You need 1 bunch of fresh cilantro or culantro.
Prepare 1 dash of salt to taste.
It's 1 dash of pepper to taste.
Prepare 3 tbsp of chicken bouillon ( prefer knorr ).
Caldo de pollo ( carribean style chicken soup/stew) instructions
Prep chicken by cutting into quarters and applying salt/pepper. Set aside..
Heat a small amount of oil in a large soup/stock pot..
Quarter the onion and add to the oil to sweat, once onion has become transparent add chicken to pot and brown on all sides..
Once chicken is browned add enough water to cover the chicken by about a inch, add chicken bouillon and a pinch of salt. Stir well and bring to a boil..
After 5 minutes of boiling reduce heat to a simmer and cover to cook. 30 minutes or untill EXTREMELY tender..
While chicken is cooking prep the veggies for the soup..
Peel yuka and slice in one inch rounds, set aside in large bowl..
Clean corn and slice cob to 2 inch thick pieces, add to bowl with yuka..
Peel chayote cut in half and remove pitt with a spoon, cut into medium / large chunks. Add to bowl..
Clean potatoes well and cut into large chunks. ( quarter for small potatoes) add to bowl..
Clean zucchini squash and slice into 1 inch rounds, place in bowl..
Peel carrots and slice into 2 inch rounds. Place in bowl..
Clean tomatoes, quarter tomatoes and place in bowl..
Peel GREEN plantain slice into one inch rounds. NOTE: MUST BE GREEN HARD PLANTAINS NOT YELLOW..
Chop cilantro including stems reserve half for garnish..
Add all veggies and cilantro except for the zuchinni squash to the pot..
Add enough water just to cover the veggies. Add more salt/ bouillon to taste. Cover tightly and cook on medium high heat for about 15-20 minutes untill potatoes and carrots are tender..
Add zuchinni for the last 10 minutes..
Serve this amazing stew with fresh chopped onion,cilantro, and lime wedges for garnish..
Go one step further and serve with fresh corn tortillas!.
Enjoy! Hope you love it as much as I do!.